Our

Services
Imagine this scenario:
You develop sudden cold-like symptoms: stuffy nose, congestion, cough, and fever. You have trouble getting an appointment with your primary care doctor and you don't want to miss time at work by sitting in an urgent care or ER waiting room, or it is after hours and all of the urgent cares are closed. What do you do?
Step 1: Contact Telemedicine Physician Group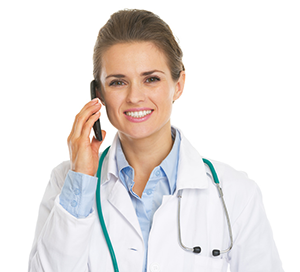 Simply call 800-611-2977 to request a phone or online video consult with a doctor
Step 2: Talk to the doctor
A U.S. board-certified internal medicine doctor, family practice doctor, or pediatrician licensed in your state contacts you, reviews your history and symptoms, listens to your concerns, and asks questions. It's just like an in-person office visit.
Step 3: Get a diagnosis
The doctor recommends the right treatment for your medical issue. If a prescription is necessary, it is sent to a local pharmacy of your choice immediately following the consultation.
Step 4: Payment
Telemedicine Physician Group charges the credit card at the end of your consultation. You can request a receipt for deductibles or reimbursement, if needed. Payment can be made with credit, debit, HSA/FSA cards, or Paypal.
Step 5: Follow up
At the end of every call, the doctor will ask if he's answered all of your questions, and we'll always follow up within 48 hours to make sure your symptoms are improving. With your permission, we can even send a record of your encounter to your current doctor.
What Telemedicine Physician Group Most Commonly Treats
Patients use online medical care to address a range of issues, from acute needs to more general questions about their health. For minor ailments, you don't have to wait in the emergency room or urgent care center for diagnosis and treatment. Telemedicine Physician Group's highly qualified healthcare providers can evaluate common conditions like these:
Abdominal Pain
Abrasions and Bruises
Seasonal Allergies
Birth Control
Bites and Stings
Body Aches
Constipation
Cough and Bronchitis
Dehydration
Diarrhea
Earache and Ear Infections
Fever
Flu and Influenza
Headaches
Hives
Insomnia
Itchy Eyes
Kidney Infections
Lice
Medication Refills
Mild Lacerations
Nasal Congestion
Nausea and Vomiting, Heartburn/GERD, Stomach Flu, and Food Poisoning
Pink Eye and Conjunctivitis
Rash, Minor Burns, Acne, and Skin Conditions
Respiratory Infections and Mild Asthma
Sinus symptoms and Infections
Skin Infections
Smoking Cessation
Sore Throat and Acute Pharyngitis
Sprains and Strains
STD Testing and Treatment
Travel Medicines
Urinary Tract Infections (UTI) and Cystitis
Vaginitis
This is only a partial list. We treat many more illnesses and injuries. Call anytime to inquire.