About Us
Mission
Our mission is to expand access to high quality affordable healthcare by delivering trusted Telehealth solutions through Telemedicine Physician Group.
Vision
Our vision is to create a healthier world through on-demand telemedicine healthcare.
Our Promise
Our board certified physicians are specially trained and certified to conduct telemedicine visits. We use telehealth specific, evidence-based guidelines to provide the highest quality medical care.
Our Doctors
Our physicians are U.S. trained, board certified, licensed and credentialed and typically have been practicing 10-15 years. Most are primary care physicians, certified in internal medicine, family practice, and/or pediatrics, but we also employ specialists as needed to meet the requirements of patients. All doctors are verified through the National Physician Data Base (NPDB) and the American Medical Association (AMA) for medical licensure, training and education, work history and malpractice history. Telemedicine Physician Group doctors are credentialed every 3 years, with NCQA provider credentialing standards.
About the CEO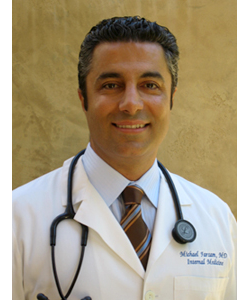 As the founder and CEO of Telemedicine Physician Group, the renowned Dr. Michael Farzam is committed to providing each patient with first-rate care and attention as a telemedicine provider. Michael Farzam MD is a board-certified physician, certified by the American Board of Internal Medicine, and has been providing telehealth services for over 10 years. He takes great pride in his ability to pay close attention to each patient's individual needs. While providing high quality comprehensive care, Dr. Farzam has garnered a well-earned reputation for compassionate, friendly care. As a highly trained medical expert, he is prepared to diagnose and treat most acute and chronic medical problems and minor injuries. In 2001, Dr. Farzam completed his medical school training and received his Physician and Surgeon's medical license from Tufts University School of Medicine in Boston, Massachusetts. He completed his residency training in General Internal Medicine at Cedars Sinai Medical Center in Los Angeles, California (a UCLA Affiliated Hospital) in 2004. Since then, Michael Farzam MD has been a operating a concierge house call doctor practice for over 10 years in Los Angeles, California. Dr. Farzam has even been voted 'Best Doctor' and has received 'Patients Choice Award' and 'Patients Recognition Award'.